John R Bicknell
Author of Twelve Years in "Care" – A British Child Migrant's Story
ISBN:978-1-921030-65-9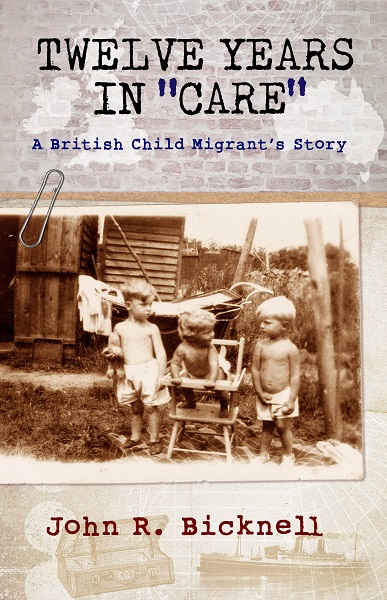 "Twelve Years In Care is a fascinating read! From the humblest of beginnings, John reveals to us what it meant to be a child living through the war years, often hungry and uncared for,  becoming a Barnardos Boy, and finally leaving Britain for the far away land called Australia,  which no one ever explained was actually on the other side of the world. Despite a cool welcome on these distant shores, John created a new life for himself and worked hard to find his identity.  For anyone interested in the child migrant issues, this book is a most interesting read and certainly gives a new insight into the lives of children in care, yet this book is not a'' woe –is –me" story, it's inspirational and uplifting  and a thoroughly good read."
– Alison Lewis, author Seasons of Life & Missing
Background
From the 1860's to the late 1960's over 150,000 boys and girls "volunteered" to migrate from the United Kingdom to many colonies of the then British Empire, including Australia. The abolition of the slave trade in 1803 and the eventual emancipation of individual slaves in the 1830's had left the colonies with a shortage of labour to be partially filled by these children.
This diaspora of children rivalled the number of convicts sent to Australia. We were the unwanted generations; many of us were bastards/illegitimate by birth  and/or from the lowest echelons of society. It was all quite "normal" and accepted practice; we were surplus to requirements. Once we were put into institutions we became "fillii nullius" the children of no one, to be done with as the authorities saw fit. Each of us has a story to tell; this is my story.
Perfection!
A child's why?
Is a child's cry;
For truth.
Truth, brings forth knowledge
Knowledge, is a precursor to wisdom.
Wisdom seeks truth.
Let us all seek truth.
In order to be wise.
Where to purchase Twelve Years in "Care"
-Direct from the Author, email jebicknell@gmail.com, phone 02 4684 3093. $30.00 plus $8.00 postage and handling.
-Wollondilly Heritage Centre, 43 Edward St The Oaks 2570, Phone 02 4657 1796
-Tahmoor Garden Centre and Cafe (Le Jardin) 3070 Rememberance Drive Bargo 2574, Phone 02 4684 2000
-Mowbray Park Farm (Blair Briggs Managing Director), 745 Barkers Lodge Road Mowbray Park 2571, Phone 02 4680 9224
What people are saying about Twelve Years in "Care" – A British Child Migrant's Story
"John Bicknell thinks he has written his life story – and so he has, boldly, in his own voice and in a most readable narrative. But in doing so he has paid hidden tribute to the power of small acts of generosity, their power to heal."
– Kenneth Harkness B.Ec.,LLB
'John R. Bicknell's "Twelve Years in Care", on the surface, reads like a boy's adventure story. John writes with a sense of wonderment and humour, at times causing the reader to forget that this is definitely not "Adventure Time for Boys." Dysfunctional family relationships, institutionalisation, family breakdowns – these would cause many an individual to become a burden on society, yet this Barnardo's Boy has clearly demonstrated that society has benefited from 'volunteering' this British Child Migrant. Advocates (assuming there are any) of the system that produced this British Child Migrant would argue that the system was justified in its actions, as it produced an upstanding citizen – John R. Bicknell, however, in spite of that system, as his autobiography demonstrates, flourished. It is a wonderful, ultimately uplifting, read."
-Lynette Buick, Book Reviewer
For people born after World War Two reading '12 Years in Care' is an eye opener.
It's a recount of one boy's/man's early life experiences in institutionalised care – plucked from what he thought was family life to be then sent off to an institution in England before being transported to the "colonies" in Australia.
John R. Bicknell's autobiography is also about silent observance, yet strong determination to survive and about carving his own way in life with many lessons along the way. By no means a sentimental story, it is a must for anyone curious about the plight of Dr Barnardo's  children.
Insightful, at times raw and gritty as well as humorous and uplifting of a child's/man's resilience and the light at the end of the tunnel.
It's a book, which will broaden one's understanding beyond the idea of happy families.
-Lee Abrahams, The District Reporter, WOMBAROO PUBLISHERS
I turned each page of John Bicknell's autobiography, Twelve Years In "Care, with trepidation, dreading the pages that would recount the horrors physical, sexual and mental that were inflicted by adults charged with his welfare, including his mother.
There clearly were terrible times suffered by John and his two brothers but he has spared us the details of those dark and ugly days and focussed instead on his survival. It enables us to finish his autobiography with a strong sense of admiration for this modest man who prevailed and who despite his childhood went on to be a decent, good man and father of his own children. So often the trauma of a childhood in state care, especially following parental neglect and abuse, destroys people's minds and lives for ever; but not John Bicknell.
There are many lessons to be learned from John Bicknell's life but overwhelmingly his account reminds us of the deep vulnerability of children. Adults necessarily have absolute power over children but many, instead of being uplifted by this great and wonderful responsibility, abuse it and crush the fragile lives entrusted to them. Through the honest gaze of this life story, may we be reminded of our deepest human responsibility and commit to ensuring all our children grow up in safe and loving homes for life.
-The Hon. Pru Goward MP, Member For Goulburn: Minister for Women, Mental Health, Prevention Of Domestic Violence and Sexual Assault and Medical Research.
Up to 150,000 children were deported from children's homes in Britain and shipped off to a 'new life' in distant parts of the British Empire, right up until as recently as 1970. John was one of these children who came with his two bothers to the Barnardo's Farm Training School at Mowbray Park near Picton. In his new book he takes the reader back to where it all began in a small house in a small village in southern England, into their incarceration in English orphanages and then to Australia with several other children. The chapters describing life in Mowbray Park give the reader a glimpse into the lives of similar children raised in philanthropic institutions away from traditional family structure and make their subsequent social problems easier to understand. This is a timely story for today as we all struggle to understand why so many children were taken away from families and countries. John worked hard to overcome his early life to create acceptance into local communities and successfully run a farm and raise a family but it was only at a significant cost to himself. Many other children did not. They all have stories we should know before we can remedy past mistakes and apply better policies in future.
-Doreen Lyon, Wollondilly Heritage Centre
"Where does one start to give an appraisal of a book on a person's life where they have revealed with absolute honesty their innermost thoughts allowing themselves to be extremely vulnerable?
John shows how some children have amazing resilience in unacceptable circumstances if they have core values plus some pigheadedness and determination. He demonstrates that while there are people who are misdirected or just plain evil in the world that others who by showing kindness and have faith in that person can change that person's life for the better.
I would have been honoured to have been the Mayor at the time John became an Australian citizen as reading the book shows his character, while definitely not loud could be the quintessential Aussie.
The book shows how important our roots are to our identity but also that we can be adaptable and make a home for our heart in places where we have friends and opportunity.
Everybody will enjoy this story, but for those of us who come from the same areas, we will appreciate how the love of the harsh Australian landscape could give reward for effort without modern machinery; simply by just using hard grunt.
On finishing the story the reader is left elated by the satisfying resolution but also with heartbreak as you are left remembering that the treatment of many precious innocent children around the world is still abysmal."
– Judith Hannan, Mayor Wollondilly Shire 2017, B. Optom. MBA  JP
"John has captured this period in history for our benefit and I suspect, His; a journey which in places is both harrowing and humorous. A must read for those interested in the humanities."
– Blair Briggs, Wollondilly Shire Councillor, Managing Director Mowbray Park Farm 2007 ongoing (Formally Dr. Barnardos Farm Training School).
"John Bicknell presents an honest and heartfelt account of growing up in an institutionalised  environment and the normalisation of abuse at the hands of parents and carers. This book is a poignant reminder of the many trials and abuses that thousands of children and teens suffered at the hands  of those whose very job was to protect them.
I am glad that John has told his story. As he writes, "it is necessary to acknowledge the truth of what happened as well as bear witness to the fact that these injustices occurred to the most vulnerable of people: children." Our nation has only recently formally acknowledged and apologised to children like John who migrated to Australia for the purpose of cheap labour and more often than not were at the mercy of unscrupulous and often vicious carers.
At the same time, John's account provides a wonderful insight into the well-known generosity and community minded spirit that is so evident in Wollondilly, painting a picture of warm, genuine and hardworking farming families who share in what little they have to give an orphaned boy, a family. I was saddened to read of the discrimination and suspicion that Barnardos Boys like John faced in the community. Despite being ostracised John and no doubt hundreds of other young men in his situation have helped to shape and build the nation of Australia.
The long-term impact of institutionalised childhood, of the scars one carries even into later life, is evident in John's account. That John was able to forgive his mother and father, and his praise of social workers and staff of Barnardo's nowadays, is a testament to the man that he is. John Bicknell is a valued member of the Wollondilly community and dedicates much of his time to helping young high school students as a mentor.
My hat goes off to John for telling his story. A work of this nature takes courage, dedication and a hope and trust that society and government will learn from the terrible injustices borne by children like John and his brothers."
– Jai Rowell MP, Member for Wollondilly.
John Morrow's Pick of the Week. Twelve Years in "Care," A British Child Migrant's Story.
Dr Barnardos Homes were scattered around the United Kingdom, with 150,000 children emigrating to various homes in Canada, Australia, South Africa, Zimbabwe, New Zealand and the Caribbean between the 1860s to 1960s.  The children were deemed expendable by their parents and authorities.  Families were split, brothers and sisters separated and no record of their movements was made available to the children for many years.
Mal, John and Lionel Bicknell were young brothers in arms as they battled neglect and malnutrition growing up in Essex during the war years.  Their sister, Lois, 'miraculously' appeared in 1944, apparently the living image of a blonde Dutchman serving in the area while their father fought overseas.
John's father divorced their mother in 1945 and after protracted legal battles between their parents, their mother eventually placed the boys in the care of Dr Barnardos Home on 1 April 1946.
History tells us that many of the homes were like bombshells during the war, ready to explode and where sexual assault and cruelty ran rife amongst evil people who knew how to play the system.
John Bicknell's story is a sad indictment of that old saying 'seen but not heard' but John has always been a battler.  However, he has come up against some criticism for his outspoken ways – from those who argue that not all of the children forced to emigrate experienced horrifying hardships.
What would have happened to those children who were left in broken homes if Dr Barnardo had not stepped in?  Malnutrition, probable sexual abuse, worse conditions and certain death may have faced them in England if they had been abandoned to themselves.
Full of statistics, well researched and well written, John Bicknell has given readers a story that is very significant today given the recent Royal Commission investigating child abuse within Australia.
As John states at the beginning of his story, children are not possessions, they are simply little people.
"John Bicknell's story will tug at your heartstrings, but what life would have faced him in England if Dr Barnardos Homes had not provided an escape to a new life, albeit an uncertain and risky one?"
– John Morrow.
A compelling insight into the life and times of a child under the Dr Barnardo's Homes Scheme.
The experience of living pre and post WW2 as a child in such challenging circumstances is in itself a moving story.
The living standards, the treatment and discipline of such young children was extraordinarily harsh. Handing over three young boys to care seemed such a heartless, inhumane act.
Life in the Dr Barnardo's Home in comparison appeared to provide stability and security, both in England and then Australia, and was such a contrast to the previous uncaring, unstructured existence.
It was great to read about earlier days in the local area, specifically Mowbray Park at Picton and The Oaks. The author's inclusion of so many local identities makes this a fascinating and relatable read.
-Angus Taylor MP, Federal Member for Hume