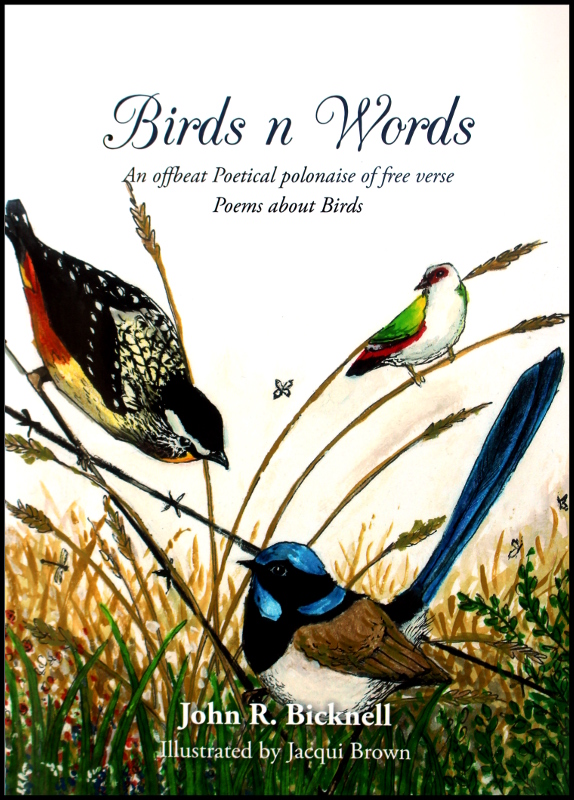 Foreword
Homo sapiens sapiens are inexorably taking over the habitats of other species of birds and animals all over this planet.
The purpose of BIRDS N WORDS is multifaceted; enjoyment is foremost in rather an offbeat, yet humorous, colourful and informative manner.
Being informative about the characteristics, hardships and traits of birds in their living natural environment is an educational tool, as is giving human qualities to birds which in turn gives more of an appreciation of what it is like being a bird. If only birds could talk to us; what would they say?
BIRDS N WORDS has been constructed and illustrated in such a way that it will be a joy for adults and children alike to become immersed in verse and the kaleidoscopic brilliant colours depicting birds in their natural habitat.
Each poem for full effect should be read aloud giving full reign to parsing, especially exclamation marks.
I make no pretence of being an ornithologist or even a bird watcher [twitcher]. All my research comes from Wikipedia and the authors of books such as Jennifer Ackerman's The Genius of Birds: Tim Low's Where Song Began: David Burnie's Birds Of Australia; even so some observations are mine.
John R. Bicknell
Poet and Author